Introducing the Payontime 'Get Paid' Terms & Conditions Package.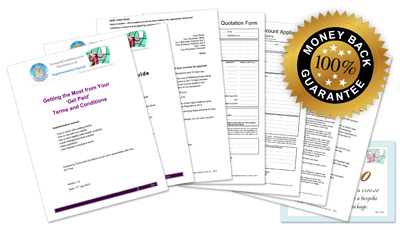 A collection of everything you need to get your invoices
Paid On Time

Late payment letters, forms and templates
Statutory Late Payment Letters Disclaimer
Our late payment legislation letters have been compiled by a credit management professional. However, they are supplied to you as a guide only and no liability is accepted by the pay on time website, its members, servants or agents for any loss or liability incurred by anyone making use of any or all of them. You should consult your financial or legal advisers who know your business in detail, for advice on how they should be tailored to your needs.
Letters and Forms
Use your sales documentation [such as estimate forms, order acknowledgments and delivery notes] to remind your customers of your Terms of Trade by printing them clearly on the reverse.
Tweet