Advanced late payment interest calculator
The fully featured version of the late payment interest calculator is now available for use so we thought we would give you an insight into its capabilities. We wanted to create something that would do all of the hard work for you allowing you to concentrate running your business. The calculator is quick and easy to use and automatically generate claims that can be emailed and printed.
Features such as automatic daily updating of interest owed, time limited discount to promote quicker payment and recalculating total amount owed after a partial payments are built in to save you time and money. The debtor can view the claim online and choose a method of payment (BACS, cheque or faster payment service) and the final amount will recalculate to make sure that they pay the exact amount owed. The screen shots below show some of the features.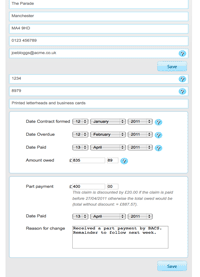 Features
Basic Calculator
Standard Calculator
Advanced Calculator
Cost
Free
£7.00 pa + VAT
Various options
Easy calculation interface

Basic breakdown of interest and compensation

Detailed breakdown of calculation

Retrospective and future calculations

Print calculation

Email calculation

Set up your company address details
Debtor address book

Input debtor address
Autofill from address book

Input debtor purchase order, job description & invoice No
Full breakdown of calculation results

Add time limited discount for prompt payment

Save calculation to history

Unpaid invoices re-calculate every day

Auto generated late payment demand for email/print

Auto generated Partial payment for email/print

Auto generated final payment for email/print

Partial payments are re-calculated
Non payment of interest & compensation continue to
accrue interest on a daily basis.

View all calculations in history by date or by debtor

Edit and save calculation from history

Control debt status (unpaid/paid)

Debtor can login to view creditor & claim details
Debtor can choose payment method & see final amount owed
Tweet