Advanced late payment interest calculator
The fully featured version of the late payment interest calculator is now available for use so we thought we would give you an insight into its capabilities. We wanted to create something that would do all of the hard work for you allowing you to concentrate running your business. The calculator is quick and easy to use and automatically generate claims that can be emailed and printed.
Features such as automatic daily updating of interest owed, time limited discount to promote quicker payment and recalculating total amount owed after a partial payments are built in to save you time and money. The debtor can view the claim online and choose a method of payment (BACS, cheque or faster payment service) and the final amount will recalculate to make sure that they pay the exact amount owed. The screen shots below show some of the features.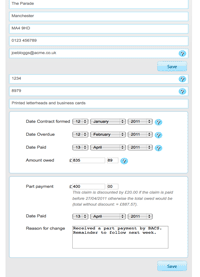 Features
Basic Calculator
Standard Calculator
Advanced Calculator
Cost
Free
£7.00 pa + VAT
Various options
Easy calculation interface

Basic breakdown of interest and compensation

Detailed breakdown of calculation

Retrospective and future calculations

Print calculation

Email calculation

Set up your company address details
Debtor address book

Input debtor address
Autofill from address book

Input debtor purchase order, job description & invoice No
Full breakdown of calculation results

Add time limited discount for prompt payment

Save calculation to history

Unpaid invoices re-calculate every day

Auto generated late payment demand for email/print

Auto generated Partial payment for email/print

Auto generated final payment for email/print

Partial payments are re-calculated
Non payment of interest & compensation continue to
accrue interest on a daily basis.

View all calculations in history by date or by debtor

Edit and save calculation from history

Control debt status (unpaid/paid)

Debtor can login to view creditor & claim details
Debtor can choose payment method & see final amount owed
Statutory interest calculator updated
We have updated our statutory late payment interest calculator to make it quicker and easier to use. Fields that are no longer necessary have been removed and drop down menus replace the laborious inputting of numbers and slashes. The calculated result is also improved. You are now informed about the number of days overdue, total interest owed as well as compensation entitlement and the final total that you can claim. This is phase one of our improvements to the calculator. Phase two will be the launch of our advanced late payment interest calculator which help you manage the whole process of making a calculation right through to sending the claim to the debtor and more.

The updated calculator requires you to register (which takes about 30 seconds) before you can use it. You will then be able to access all registered areas of the site.
Either login on the right or Create an account now and start using the new calculator.
We hope you find it useful.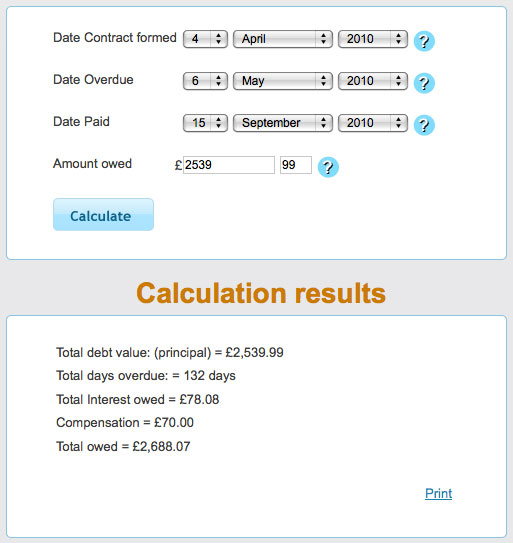 "The cheque is in the post" Ten of the most common excuses for late payment and how to deal with them
These 10 common late payment excuses have been contributed by Coface. Specialists in credit management solutions.
"I have not been paid by my customer yet".
Debtors feel that they are entitled to withhold payment until such time as their customers make payment to them.  Clearly this is not the case and a strong line needs to be taken. Ask the name and address of their debtor and the expected date of payment. Be sure to attempt to obtain all details of the debtors non paying customer including telephone numbers and contact names. Having to provide these details is not something that the debtor will be keen to provide and it may be this is sufficient to tilt the balance in your favour. Debtors often have procedures in place to "pay when paid" as this simplifies their checks and balances procedures. A determined and insistent collector should be able to overcome this.
"Our director is not here to sign the cheque today".
This excuse is often used during the summer months and over the Christmas and holiday periods. The arguments given by debtors can be used to your advantage. Find out what arrangements have been made for paying salary and other essential items (such as your invoices). There are often a number of "pre signed" cheques which have been left for emergencies.
Then, convincing your debtor that your account is essential and can be regarded as an emergency should be a simple matter for any reasonably skilled collector.
"I have not received copy invoices /  statement of account".
Have the debtor confirm to your that this is the only reason for withholding payment then, use a "closed" question, have them confirm that receipt of the copy invoice / statement will result in payment today. A copy of the invoice is easily forwarded to a debtor company and images can be scanned and stored for electronic transfer via email.
If the debtor is not prepared to make any agreement once invoices are received then this is often a sign that the excuse is a simple delaying tactic and a firmer hand needs to be taken.
"We didn't get the goods".
Today's technology makes it possible to store invoices, proofs of delivery and other types of documents in secure electric archiving environments. Documents are often capable of being retrieved at a moments notice and can be forwarded easily to debtors using email.
Ensure that the debtor provides you with a commitment to make payment immediately upon receiving the relevant documents (often the debtor company thinks the request for copies will buy them a week or two in further non payment time). Ensure the documents are provided quickly and further follow up calls are made quickly to ensure that the debtor company is keeping to their part of the bargain ie making payment.
"I am waiting for my new cheque book to come through".
Any decent bank will be able to make payment via alternative methods. Push for a CHAPS or BACS payment. A transfer from one bank to another is often the quickest method of making payment and flushes out those deliberate non paying debtors quickly. Be prepared to take action if the offer to make payment by alternative method other that cheque is refused.
"I am changing my bank account".
Ask for proof of the situation and permission to speak to the bank concerned. Point out to the debtor that their stance is unacceptable and that the costs of supporting the debtors non payment (ie interest charges and late payment fees) could be passed onto them if full and immediate settlement is not made. Again, push for payment either electronically or by way of a personal directors/shareholders cheque.
"I cant pay the bill".
This is where good collectors earns their wages. Be prepared to continue to press hard for full payment. If it becomes obvious that this is not working DO NOT switch immediately to instalments. Enquire first of all when the account may be able to be settled. The debtor often claims to be able to make full settlement within "a week or so". Now enquire "how much of the outstanding sum they are short of paying". Ask for the difference in the sums to be paid immediately with the "shortfall" to be settled by the previously agreed "week or so" date. Result.... payment in two sums as opposed to small instalments and settled over a relatively short time frame.
"The signatory is deceased".
Not much that can be done immediately with this one. There is often a good deal of paperwork to be completed prior to the release of any funds. Verification of the debtors position is however essential. A sympathetic, polite and yet firm approach is required. Who, what, when and where is the order of the day. Who is dealing with affairs? What is their contact details? When is it likely a payment will be made?. Always ask for details and follow up thoroughly with appointed parties.
"The cheque is ready but waiting for a second cheque signatory".
Push the debtor hard to forward the cheque with the single signature to you. Ask them to follow this up with a request to their bank to clear the cheque upon presentation to the bank. Always ask for copies of both the posted cheque and the request to the bank for clearance.
"My accounts clerk only comes in once a week, on a Wednesday, from 6.00am to 9.00am".
If it sounds implausible then it often is. Be prepared to challenge to situation and the relevance or importance of this person in the payment process.  A company owner or partner should be perfectly able to forward payment and tie up the loose ends when the accounts clerk finally makes appearance in the office.
European Council adopts new rules on combating late payment in commercial transactions
The European Council today (24/01/2011) adopted a directive laying down new rules on late payment in commercial transactions. The directive establishes specific deadlines for the payment of invoices and the right to compensation in cases of late payment in all commercial transactions irrespective of whether they are carried out between private or public undertakings or between
undertakings and public authorities. It will increase the protection of creditors and contribute to the better functioning of the EU's internal market, thereby fostering the competitiveness of businesses and in particular of small and medium-sized enterprises (SMEs).


Payment periods
Under the new rules, a creditor will be entitled to interest for late payment without the necessity of a reminder if, having fulfilled his contractual obligations, he has not received the amount due on time, unless the debtor is not responsible for the delay. The creditor will be entitled to interest for late payment from the day following the date or the end of the period for payment fixed in the contract.

If the date or period for payment is not fixed in the contract, the creditor will be entitled to interest for late payment after 30 days following the date of receipt of the invoice. If the date of the receipt of the invoice is uncertain, 30 days after the date of receipt of the goods or services.

If the debtor receives the invoice earlier than the goods or the services, 30 days after the receipt of the goods or services.

As a general rule, in transactions between undertakings the period for payment fixed in a contract shall not exceed 60 days, unless otherwise expressly agreed in the contract and provided it is not unfair to the creditor. These exceptions will cover cases that require more extensive payment periods.

A derogation included in the directive will also allow certain public undertakings, as well as public hospitals and healthcare institutions, to extend the payment period up to 60 days.


Compensation for recovery costs
When interest for late payment becomes payable, the creditor is entitled to obtain from the debtor, as a minimum, a fixed sum of EUR 40, that will be payable without the necessity of a reminder as compensation for the creditor's own recovery costs.

In addition, the creditor will be entitled to obtain compensation for expenses incurred due to the debtor's late payment, such as those incurred in instructing a lawyer or employing a debt collection agency.

EU member states will be allowed to impose fixed sums for compensation of recovery costs which are higher and therefore more favourable to the creditor, or to increase these amounts, for instance to keep pace with inflation.

The Commission will publish on the Internet statutory rates of interest (the reference rate of the relevant Central Bank plus 8%) which apply for the purpose of late payment in commercial transactions.

Also, contracts excluding interest for late payment shall be considered as grossly unfair.

Member states will have two years to adapt national laws to comply with the provisions of the new directive, which replaces directive 2000/35/EC.

The reduction in the number of late payments in commercial transactions is one of the ten principles enshrined in the Small Business Act for Europe (16788/08), to help SMEs to cope with the present tough market conditions.